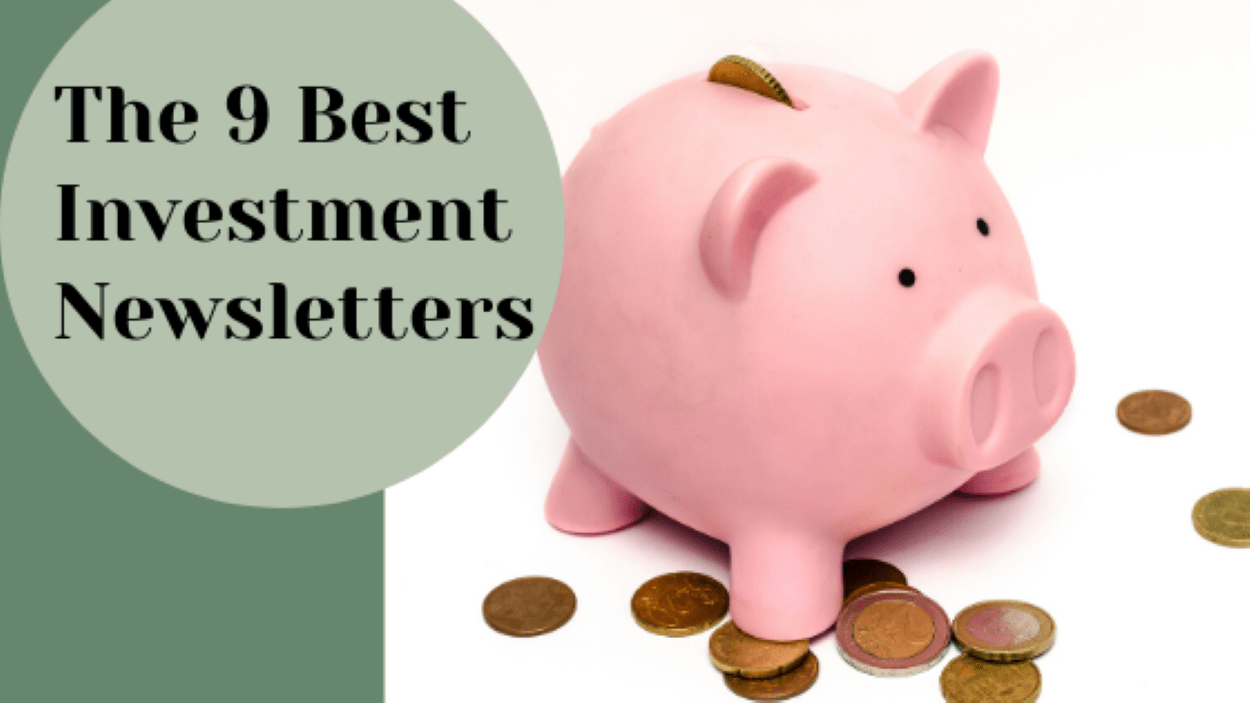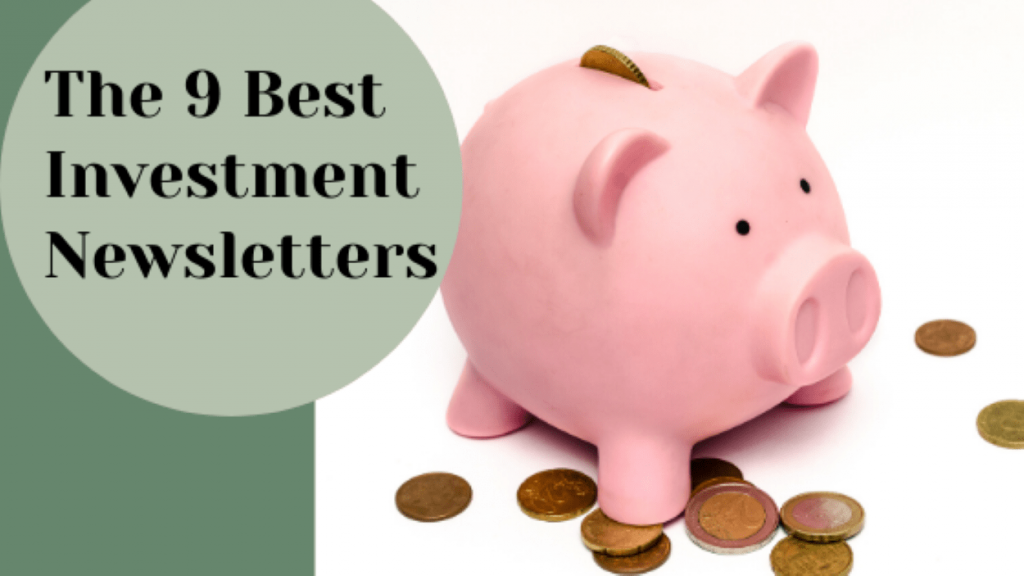 Today, we are here to discuss The 9 Best Stock and Investment Newsletters.
If you invest in the stock market…
…you need to read this article.
The fact is that you can't do everything yourself.
The easiest way to invest is through index funds, mutual funds, and exchange-traded funds.
However, if you really want to get rich, you need to outperform the market entirely.
How can you accomplish this goal?
Hint: You will never get rich by playing it "safe."
You can accomplish this goal by venturing out on your own and purchasing individual stocks.
Not only do you need individual stocks, but you need ones that beat the market.
Investment newsletters provide the latest market news straight to your inbox.
Instead of combing through thousands of hours of news, analysis, opinion…
…you can spend your attention on the best sources of information.
But first, you must find the newsletters that are the best sources of information.
Furthermore, you need to determine which newsletters are relevant to you.
Accordingly, you must ask yourself two questions:
Who provides the best market information?
Who provides the most relevant market information?
You may be wondering what inspired me to write this article.
Well, I have tried more than twenty investment newsletters over the years.
Some of these newsletters were great, and others were not-so-great.
The frustration from spending money on the not-so-great is indescribable.
So, I am here to educate you on which sources are worth your time and money.
In other words…
…which are the best stock and investment newsletters?
To make it easy, here are the Top 9 Stock and Investment Newsletters ranked.
Are you ready to get started?!
Me too.
#1: Motley Fool Stock Advisor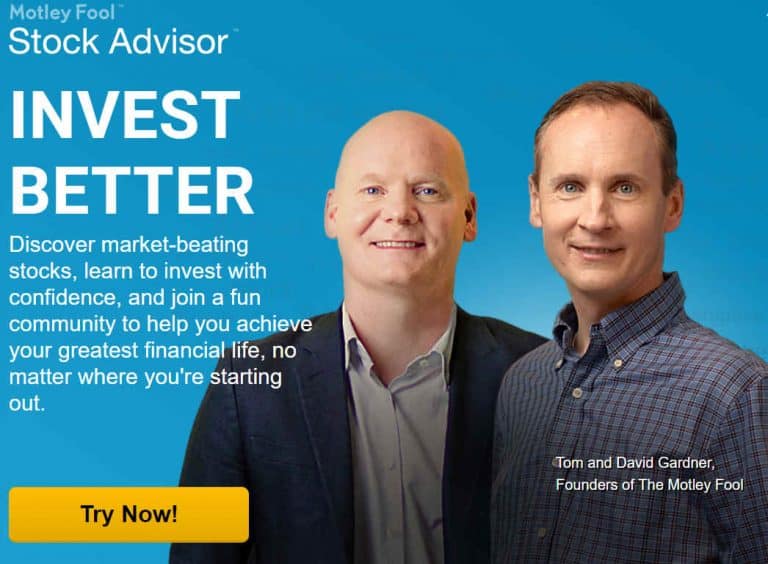 First on our list of the 9 Best Stock and Investment Newsletters is Motley Fool Stock Advisor.
The Motley Fool Stock Advisor picks come straight from the two founders of the company.
Tom and David Gardner are those founders, and they have been at it since the 1990s.
What does this mean for you?
You are getting seasoned experts with a proven record for success.
So, forget saving the best for last…
…the Motley Fool Stock Advisor is our #1 Best Stock and Investment Newsletter.
These guys maintain a high level of accuracy in their stock recommendations.
Stock Advisor gives you two stock recommendations each month.
In 2019, the Stock Advisor's 24 stock recommendations are up over 55 percent!
These market gains outpace the stock market as a whole by an average of over 35 percent.
I know what you are thinking…
…I can beat the market by over 35 percent?
Sign. Me. Up.
I am not aware of any other newsletters with those results in 2019 (but correct me if I am wrong).
Since inception, these guys advertise that their picks are up over 359% versus the market's 104% gains.
And lately, the Stock Advisor continues to outpace their peers.
So, is the Motley Fool Stock Advisor worth the cash?
All signs point to a resounding YES!
So, what do you NEED to know before buying?
We have you covered.
Here is what you get with Motley Fool Stock Advisor:
You receive two new stock recommendations each month.
In addition to those recommendations, you get various "Best of" stock lists each year.
Beginning in January 2020, here is what to expect:
Releasing on January 2, 2020, Tom Gardner's next stock recommendation
Releasing on January 9, 2020, Tom's 5 New Best Buys
Releasing on January 16, 2020, David Gardner's next stock recommendation
Releasing on January 23, 2020, David's 5 New Best Buys
Each stock recommendation comes with an in-depth, yet intuitive analysis of each recommendation.
In addition to the above, you also get unlimited access to the following:
The Motley Fool's list of "Best Stocks to Buy Now"
The Motley Fool's list of "Starter Stocks that should be in Everyone's Portfolio"
Their Knowledge Base and Community
Here are some results from the Stock Advisors 2018 stock picks (as of December 21, 2019):
Okta (OKTA) is up 344%
Shopify (SHOP) is up 165%
Paycom Software (PAYC) is up 203%
Fair Isaac Corp (FICO) is up 121%
Shopify (SHOP) is up 166%
Here are some of the Stock Advisors 2019 stock picks (as of December 21, 2019):
Twilio (TWLO) is up 61%
Appian (APPN) is up 74%
Nintendo (NTDOY) is up 38%.
Synopsys (SNPS) is up 15%
Trade Desk (TTD) is up 37%
Are those results tremendous or what?!
And it gets even better…
…you can access Stock Advisor for $199 annually.
But wait, there is more.
New customers can try Stock Advisor for just $19!
So, not only is Stock Advisor the best newsletter, but it is also the cheapest newsletter.
The Motley Fool also offers a 30-day money-back guarantee.
So, you have nothing to lose at this point (except by not signing up).
I encourage you to try the service, get the free stock recommendations, then decide.
You will not be disappointed (but hey, if you are, you can get your money back).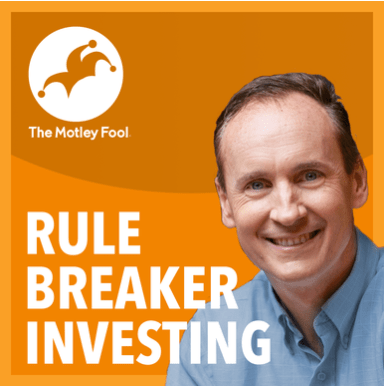 Are you a growth investor?
Are you interested in making money?
If so, it's time to listen up.
The Motley Fool Ruler Breakers is an investing service focused on high-growth.
Rule Breakers is like Stock Advisor but with some slight differences.
For example, with Rule Breakers:
You get two new stock recommendations per month
This service follows six rules when providing recommendations
The stock recommendations provided today will become market leaders tomorrow.
Six rules determine Rule Breaker recommendations:
Emerging Industries: These are innovative companies operating in emerging industries that are poised to change the world.
Sustainable Advantages: These companies demonstrate the potential for long-term competitive advantages over the competition.
Past Price Appreciation: Companies with climbing stock prices in the past and present.
Sound Management: Visionaries and strong management leads these companies.
Consumer Appeal: You want to invest in companies that customers love!
Grossly Overvalued: These companies have the most transformative value (and others may be underestimating it).
Each of the above rules is applied when stocks are chosen.
After this process, you receive your recommendations straight to your inbox.
This service is enjoying a fair amount of success lately.
The Rule Breakers service is actually outperforming the Stock Advisor service over the last three years.
So, what is the downside of Rule Breakers?
Rule Breakers stock picks tend to be more volatile compared to Stock Advisor.
However, you can expect this outcome since these financial experts are trying to hit home runs.
To hit a "home run," you must pick high-growth stocks in new industries (and pick it right).
Fair warning: You do not need to pick every stock this service recommends.
Instead, we recommend performing your own due diligence on the stocks this service recommends.
However, it takes just one home run to make up for multiple "duds."
Here are some results from the Rule Breakers latest stock picks (as of December 21, 2019):
Alteryx (AYX) is up 307% since the recommendation in January 2018.
MongoDB (MDB) is up 361% since the recommendation in February 2018.
Guardant Health (GH) is up 109% since the recommendation in November 2018.
Roku (ROKU) is up 159% since the recommendation in March 2019.
These results are outstanding, and it has been less than two years since each recommendation.
To sum it up, Rule Breakers is, on average, performing better than Stock Advisor.
However, the service comes with more risk and more losing stock picks.
What does that mean?
You deal with more volatility (but get more reward).
So, if you want to add a few high-growth stocks to your portfolio…
…you need to sign up for Motley Fool Rule Breakers today.
What is the urgency?
Rule Breakers is on sale for $99 per year or $19 per month.
You can pay $99 per year and laugh at those that paid $299 back in 2018.
Also, with all of the Motley Fool product, you may cancel whenever you want (so, it is risk-free).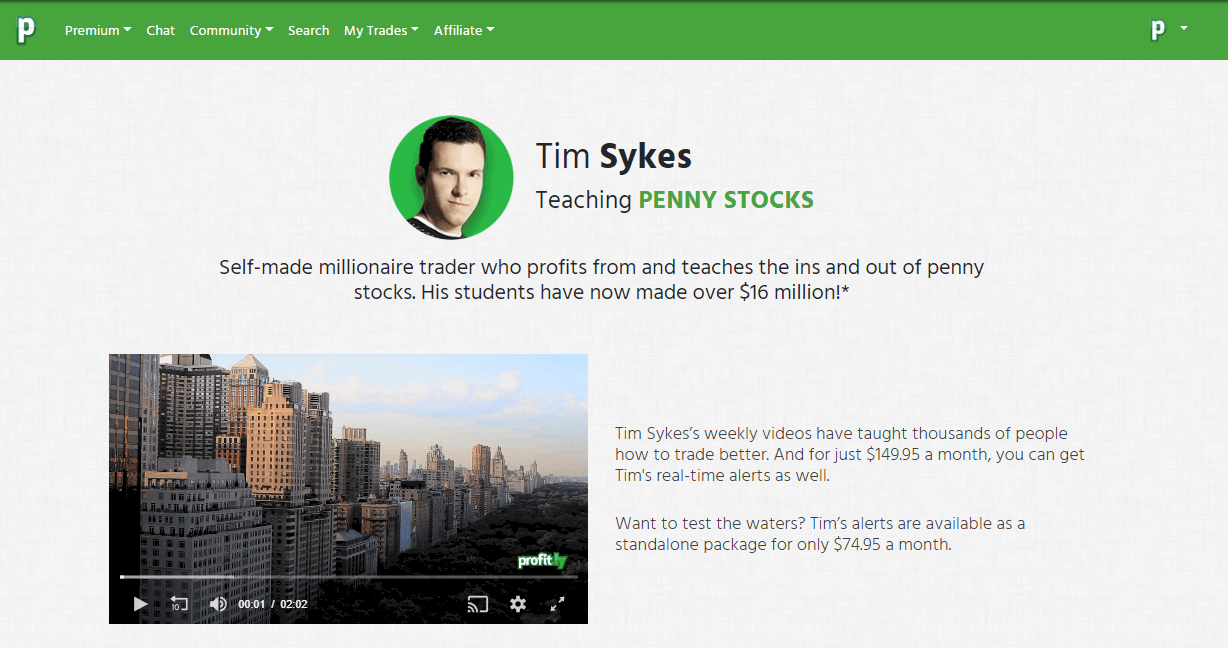 I hope you have heard of Tim Sykes.
In fact, you need to know about Tim Sykes.
So, have you heard of Tim Sykes?
He is the penny stock guru of the western world.
Tim Sykes is a trader that turns pennies into $100 bills.
Sykes oversees a successful blog that helps investors just like you.
Do you need help (you look like you need help)?
If so, you can skip navigating to the blog each day.
Instead, Tim Sykes will e-mail you his "Pennystocking" watchlist straight to your inbox by 8 am.
Sykes also makes updates throughout the day on his trading activity.
By tracking his trading activity…
…you can track every buy and sell order in real-time.
You don't need to worry about any conflict of interest because when Tim wins, you win.
You simply need one great trade to pay for an entire year of "Tim Alerts!"
So, are you ready to turn your pile of savings into a mountain of savings?
You can join Tim Sykes's journey for only $2.50 per day.
#4: Jim Cramer Action Alerts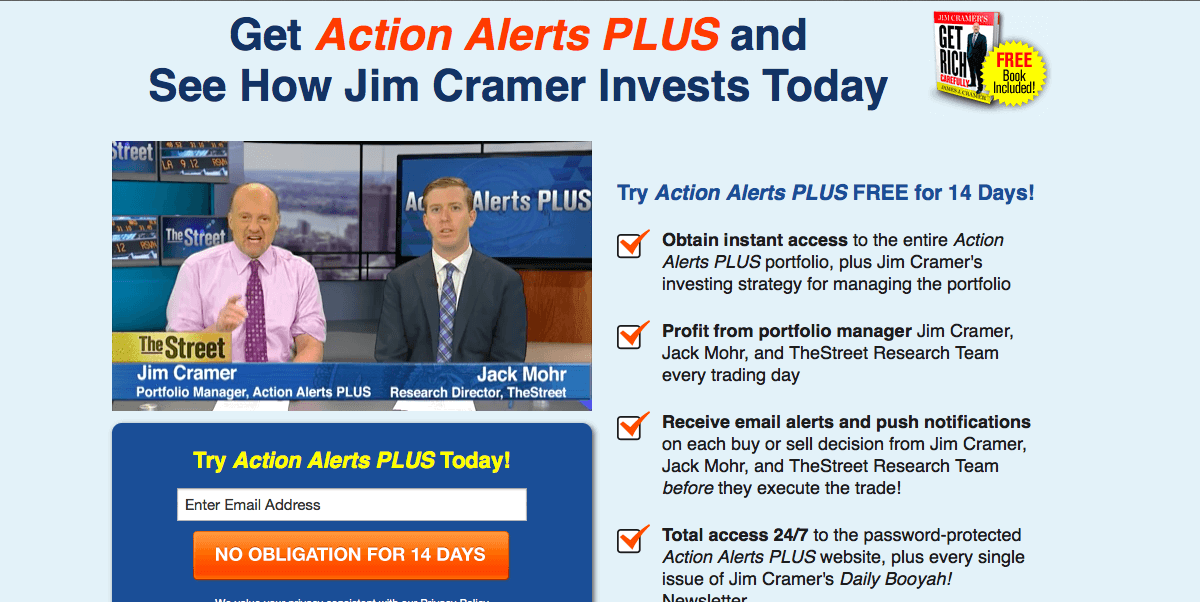 At this point, you may be aware that finding winning stock picks is tough.
You need to put in hours of hard work and due diligence.
The above reasons are why you need help.
You can take a service like Jim Cramer's Action Alerts and save countless hours.
Jim Cramer will send you an e-mail on his "Buy" and "Sell" recommendations.
On top of the recommendations, you will receive:
The intricate details of each stock
Why and what action is being taken
At the end of the week, you will get a summary of all the shares that Cramer owns.
So, why do we like this service?
Jim Cramer is a well-known industry expert (you may have seen him screaming on the television).
You can take the advice of one of the industries best for a fraction of the cost.
With Cramer on your side, you have the tools needed to make the best decision possible.
You can access Jim Cramer's alerts through TheStreet.com.
The best part?
You can try Jim Cramer's Action Alerts for 14 days at no cost.
So, do you want to work with Jim Cramer?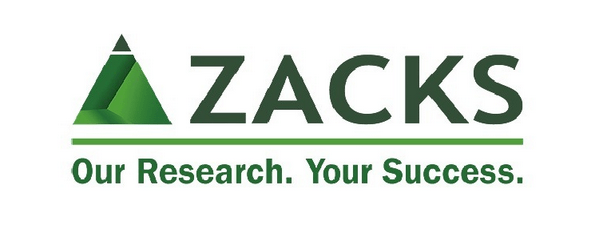 Zacks is an underrated gem for investors.
This company provides investment research tools to help you be successful.
In addition to these tools, you also get market insight via a daily newsletter.
The newsletter goes out on weekday mornings with the following information:
An overview of the stock market
What the latest market news means for you
What you should do with the information
Zacks also provides links to articles like Zacks stock exchange-traded funds, and mutual fund picks.
The best part of all this information?
You can sign-up for a FREE daily newsletter, articles, and a host of other features.
However, Zacks offers so much more.
Here is a quick overview of what the different Zacks accounts can do for you:
Free: You can utilize the daily newsletter, articles, and other features at no cost.
Investor Collection: You can bundle Zacks top subscription services.
Ultimate: You can gain access to all private buys and sells from Zacks portfolios.
The best option depends on your individual situation.
I encourage you to try the "free" version and then look into expanding.
Additionally, you can try the Investor Collection and Ultimate FREE with a 30-day trial.
#6: Kiplinger's Personal Finance

Kiplinger's Personal Finance is a monthly magazine specializing in money management and investing.
You can read about topics like homeownership, vehicle purchasing, and retirement savings.
Kiplinger pushes for long-term and low-cost investing.
The cool part is that investing takes many forms (and this source covers many of them).
The different investment topics include financial trends, individual stocks, funds, bonds, real estate, and personal finance.
The variety of topics make Kiplinger one of the most diverse investment newsletters on our list.
In addition to the variety, you can sign-up for Kiplinger for just $12 per year (or $1 per month)!
#7: Stansberry Research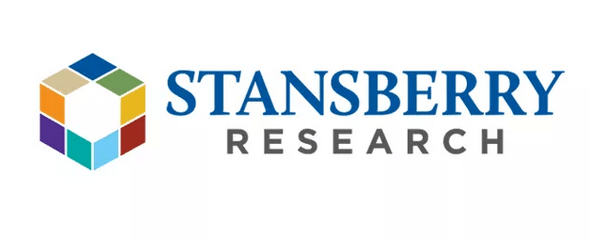 Stansberry Research is guided by two principles (via stansberryresearch.com):
We strive to give our customers the information we'd want if our roles were reversed.
We only publish analysts whose advice and strategies we'd want our own families to read and to follow.
This company is excellent for actionable investment recommendations and independent portfolio management.
On top of that, this company makes a promise, which is to bring…
"…the safest, most profitable investment ideas in the world, no matter what's happening in the markets."
One cool thing about Stansberry is that the company does not support one single view of the stock market.
Instead, the company employs experienced analysts with different market views.
This way, you can avoid looking at things from one point-of-view or investment strategy.
The Stansberry entry-level newsletters include:
Stansberry's Investment Advisory
True Wealth
Retirement Millionaire
As mentioned in other sections of this article, you will need to determine which newsletter aligns with your strategy.
The newsletter costs just $199 yearly.
However, Stansberry offers year-round deals if you can do some independent research.
#8: The Speculative Investor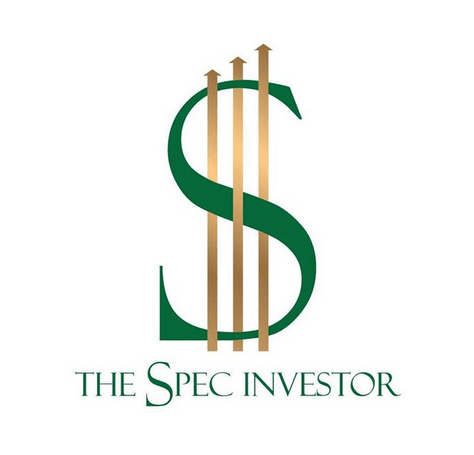 The Speculative Investors provide technical analysis with a little twist.
The twist is adding in macroeconomic analysis to technical analysis.
This company covers stocks, commodities, currency, and bonds.
If you subscribe, you will receive two commentaries each week that cover the above investments.
The commentaries are the Weekly Market Update and an Interim Update.
Additionally, you get brief updates on particularly newsworthy events in the market.
You will also receive plenty of stock picks and other trading ideas.
This service costs just $25 per month or $240 per year.
#9: Nate's Notes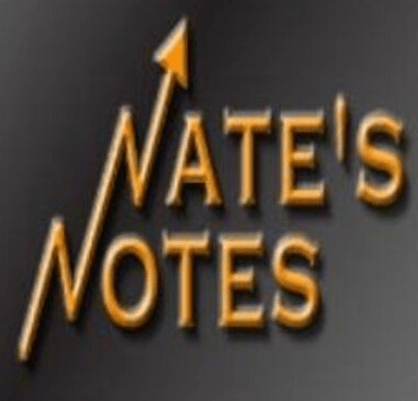 Earning the final spot on our Top 9 Stock and Investment Newsletters is Nate's Notes.
Nate's Notes is a monthly investment newsletter that can help you grow your wealth via long-term investing in the stock market.
Nate's Notes provides a highly intuitive newsletter (concise and easy-to-read) for all experience levels.
You also get access to two portfolios (Model and Aggressive) that track returns generated by Nate's recommendations.
The membership costs just $289 per year.
Oh, and you can cancel your subscription at any time and receive a pro-rated refund.
Final Thoughts
So, which investment newsletter is best for you?
That is for YOU to decide.
If the newsletter aligns with your investment strategy, you can't go wrong with these options.
These newsletters can help you by saving time and pointing out ideas you may have never considered.
I especially encourage you to take advantage of free offers, discounted prices, and money-back guarantees.
I love services that stand by their product by offering money-back guarantees.
For example, the Motley Fool is a company that has always offered this feature.
So, which of these Top 9 Stock and Investment Newsletters is best for you?
Do you use investing newsletters? Is there any newsletter we are missing?
Let us know with a comment below!