When you register for FREE at HowTheMarketWorks.com, you immediately get a free virtual trading account for you to practice trading. Once registered, you can then create or join as many contests as you would like.

So if you are a teacher, a professor, the leader of an investment club, or if you want to challenge for friends or co-workers, create your own custom stock market game on HowTheMarketWorks.com and then share the link for your contest.
Keep in mind, that high school teachers should consider our financial literacy game for students (PersonalFinanceLab.com) site that features both a budget and a stock game in one. And college professors should consider using our college stock game (StockTrak.com) site that features global equities, options, futures, bonds, forex and more.

If you ever have questions, call us at 1-514-871-2222 from 9:30 am to 5:00 pm Eastern Time. Please also read our Virtual Trading FAQa to learn more about our stock game!

Are the contests free?
Yes, HowTheMarketWorks is completely free! We are supported by the brokerage and financial services firms that advertise on our site.

Are there any prizes for winning?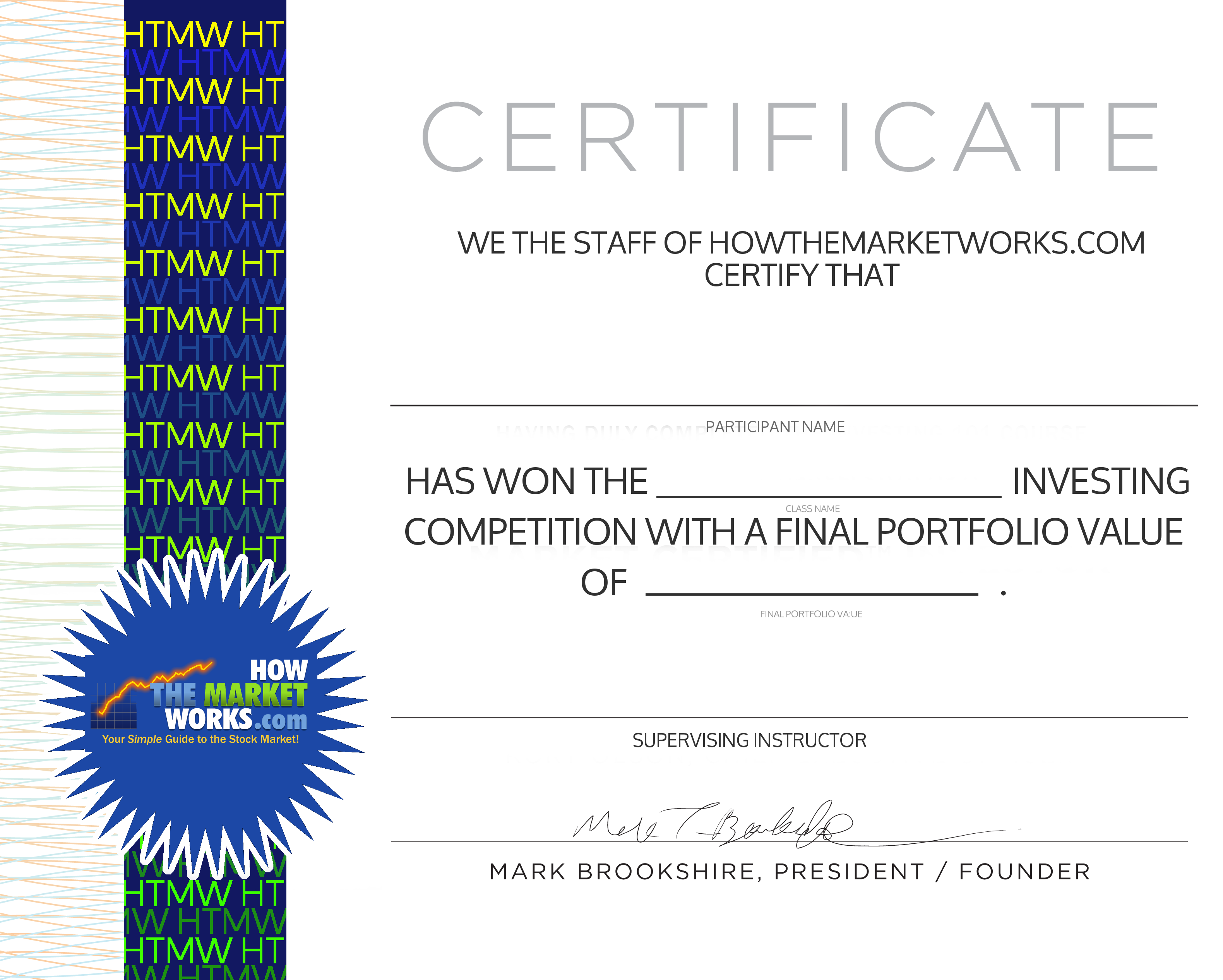 We do have a contest winner's certificate that you can print out for the winner of your contest. Click here to download a winner's certificate!
Alternatively, Click Here to download a participation certificate for everyone in your class!
A few times a year we promote PUBLIC contests where we encourage users on HowTheMarketWorks to register and create another portfolio for our contests where we do give out other prizes.
How do I join a contest?
There are two ways to join a new contest, depending on whether or not you already have an account or not:
– If you already have an account, visit the Join Contests page, and search for the contest you are looking for. If it is a public contest, you can join right away. If it is a private contest, you will need to input the password the contest creator set in order to enter.
– If you do not yet have an account, the creator of the contest can give you a link that will let you register directly into their contest without looking for it in the contest page
How do I create a contest?
We have created a few videos to help you. This one shows show you to create a contest:
When you are ready to create your own contest, you simply click on the Create a Contest link and fill out the information.
How do I manage the contest I created? Can I change my contest options (stop date, balances, etc)?
If you are the creator of the contest, go to the My Contests page and find the contest you wish to edit. You can click the "Edit Contest" button to change any of the settings you had when first creating the contest.
TEACHERS: How do I sign up my classroom?
Go to the Create a Contest page and fill out the information.
– Use the Private Classroom option.
– Set a Password to share with your students.
– Set the Start / Stop Dates.
– Click the Invite button to send your students emails with the link to the contest
You will also get a confirmation email after creating your contest that will have the link you can send to your students to register them directly into your class contest.
Why are some orders delayed by 15 minutes?
This is because of stock exchange rules about the distribution of real time prices. Most of the orders are filled at real-time prices, but some of the smaller stocks are filled at 15 minute delayed pricing. However, we do provide real-time quotes on the trade page, and all orders on the US exchange will fill in real-time.
Can I view the stocks of other contestants?
If you are the contest creator, you can view all the trades and current holdings of all contest participants at any time. On the My Contests page, click "Download Rankings and Registrations", and it will export all the current holdings, transaction histories, and account balances of everyone in your contest. We will be adding reporting for individual portfolios in the near future, which will be found on your Rankings page.
My student forgot their password. What do I do?
If you need to have a password reset, please contact our help desk and we will reset the password within one business day.
What is the longest contest I can create?
As long as you like! We support contests ranging from 1 day through 100 years.
How do I reset my contest portfolio?
Only the contest creator can reset a contest portfolio. To have your portfolio reset, have the contest creator contact our help desk. In the coming months we will also add an option for the contest creator to reset portfolios from the Rankings page.
How do I quit a contest?
At the present moment, you are not able to quit a contest. However, in the coming weeks a button will appear on the Rankings page that will allow you to quit a contest at any time. However, once you leave a contest, you will not be able to re-join later
How do I delete a contest?
If you created a contest, you may delete it at any time. Simly Edit your Contest from the My Contests page, and set the Contest End Date to any day in the past.
Please also read the HowTheMarketWorks User Guide for trading questions!