Add a Financial Literacy Lab To Your High School
Transform your current computer room into a Wall Street Trading Room!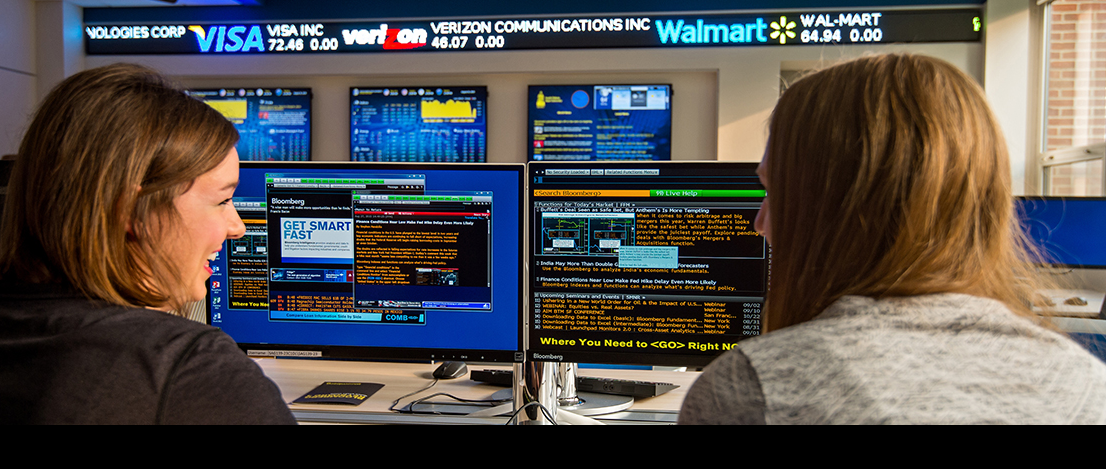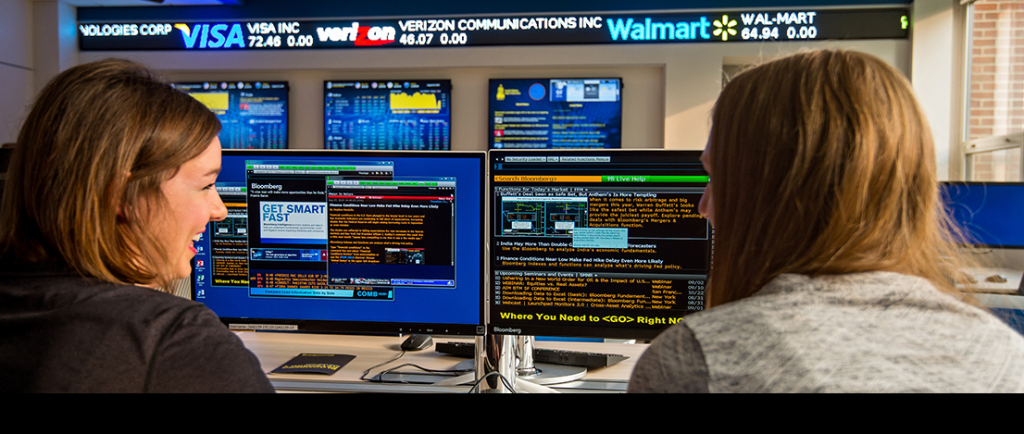 Experiential Learning at its Best
Your high school probably has a "physics lab" or a "chemistry lab", so why doesn't it have a Finance Lab?
Engage your personal finance, business, accounting, economics, computer and math students with real-world applications in an exciting Wall Street-style classroom. Stock-Trak's Financial Literacy Lab is an integrated combination of display hardware and educational software that will have your students lining up in the hallway to enter your school's Financial Literacy Lab.
Money Talks. Students Listen, Then They LEARN!
Every student wants to know how to make money! The streaming tickers and the colorful LCD screens will pique their curiosity and lure them in to your new Financial Literacy Lab. And when your students sit down in your Financial Literacy Lab and access your custom-built website they will have full access to a wide range of educational tools and content aligned to your state standards:
our Investing101.net (an "Introduction to the Stock Market" online course)
a virtual $100,000 to invest in the stock market on a customized website branded with your high school's logos and colors
project-based learning curriculum for personal finance, economics, math, social studies, business and CTE
Call Mark at 770-337-7720 OR email mark(at)StockTrak.com for more info.
While learning about the stock market and managing a virtual portfolio of stocks, mutual funds and bonds, they will be led though the site's built-in curriculum of articles, activities, videos, and quizzes that align to your state standards in personal finance, economics, math, social studies, and/or business. And to add icing to this cake, the top performing student each semester at your school will receive a $500 scholarship to the U.S. university of their choice upon graduation.
Transform your current computer room into the most exciting classroom at school by adding these 4 integrated components:
1. WALL-TO-WALL STREAMING, COLOR STOCK QUOTES AND NEWS TICKERS. These scrolling tickers across the top of your walls will catch the attention of every student (and parent) that walks by your classroom.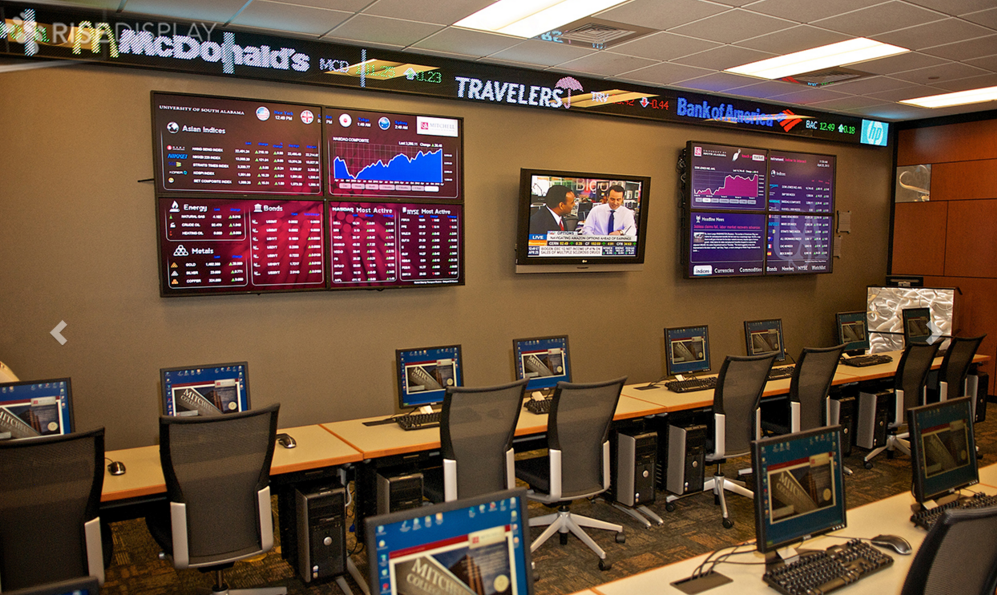 2. INTERACTIVE LCDs. These LCD screens contain a built-in Stock-Trak Controller that allows them to connect to your school's internet and then they can be configured to display live charts, financial news, class rankings, student portfolios, CNBC, Bloomberg TV, etc. They can even be configured to alternate between financial data and school announcements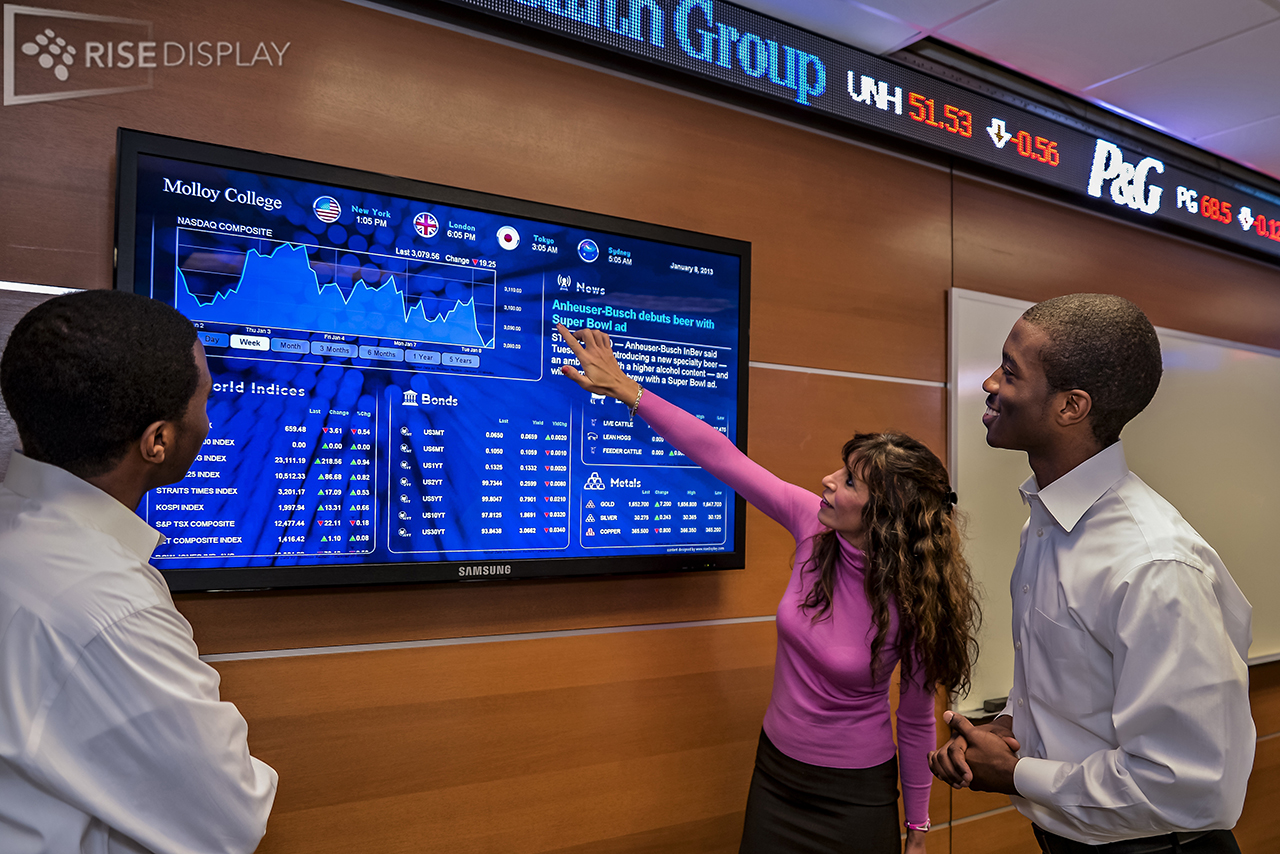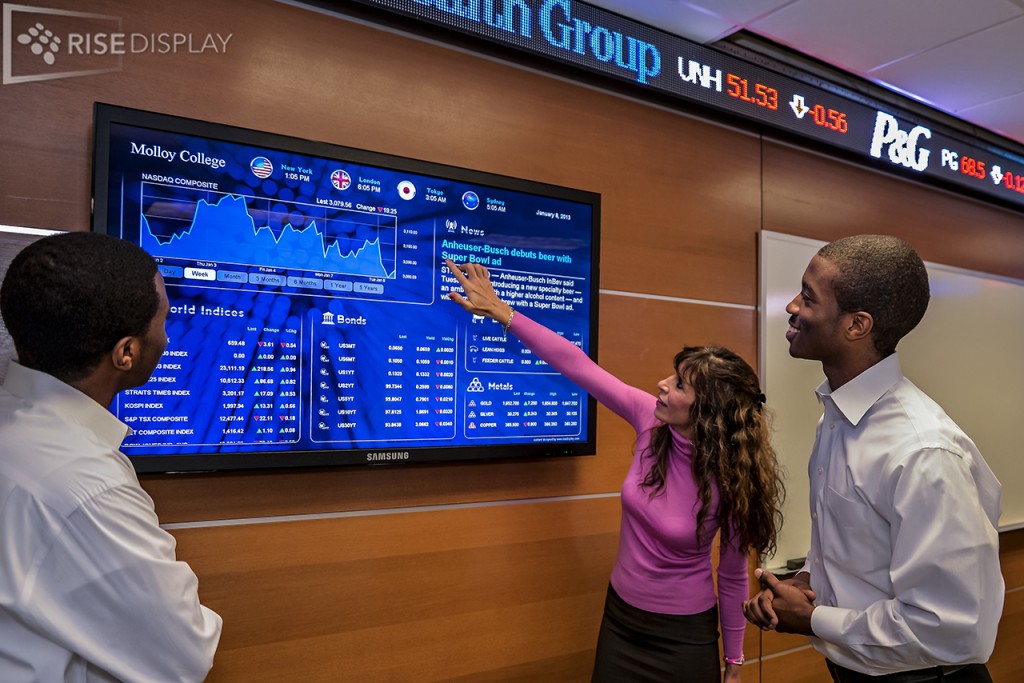 3. CUSTOMIZED, PROJECT-BASED LEARNING WEBSITE (includes a Virtual Stock Market Trading Application). At the core of the Financial Literacy Lab is a customized website that is branded with your school's name, colors, logos and images. This site features self-paced activities to guide students through embedded curriculum that is aligned to standards. Features of this site include: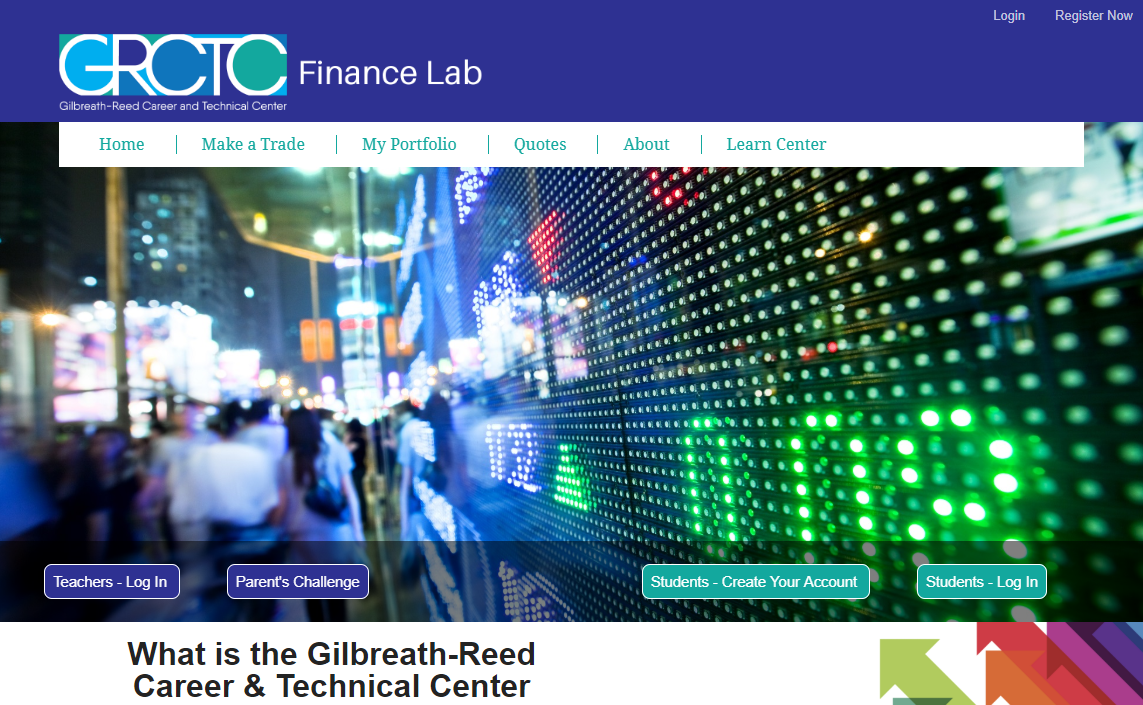 a. Stock market simulation site that allows students to manage a virtual portfolio of stocks, bonds, and mutual funds.
b. Stock quotes, charts, and news.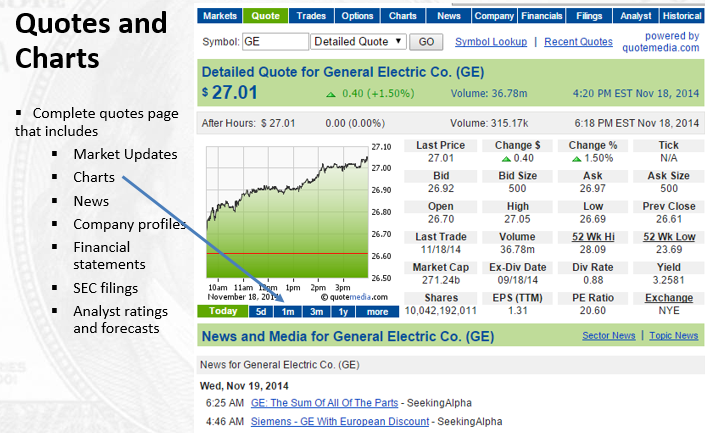 c. Complete 5 year financial statements including balance sheets, income statements, cash flow statements, SEC filings, Wall Street analyst ratings, company profiles, earnings and economic calendars, NYSE/NASDAQ most actives, gainers and losers, and more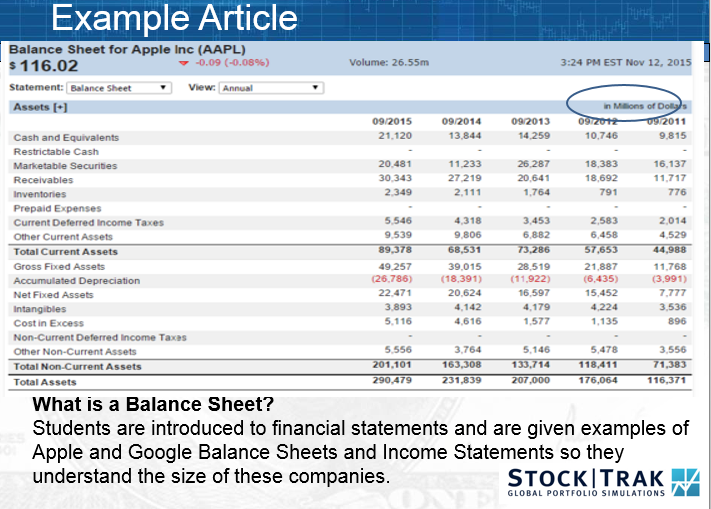 d. Interactive financial calculators including: compound interest, advanced investment return calculators that factor in taxes and inflation, personal budgeting, credit card interest and payoffs, car loan interest, mortgage rates and terms, housing rent vs buy, automotive buy vs lease and more.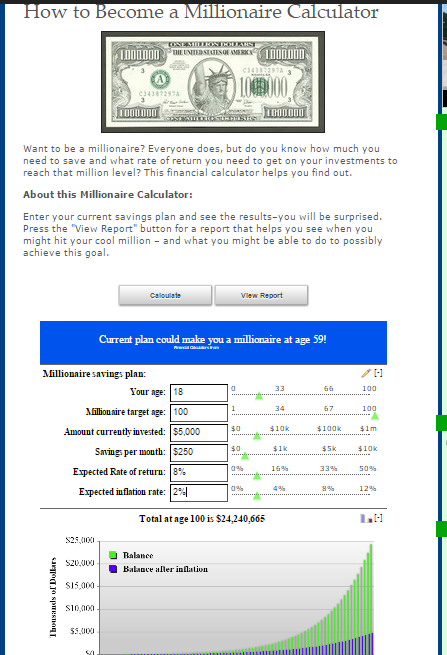 e. Robust Education Center with articles and lessons aligned to state standards for personal finance, math, social studies, economics, business and computers.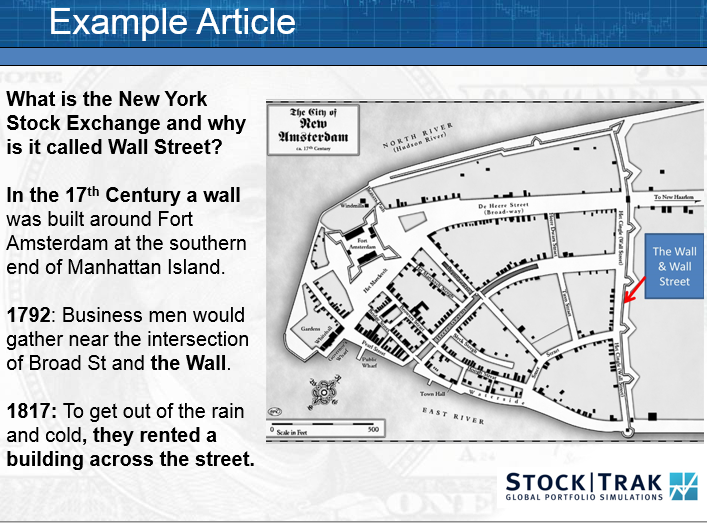 f. Articles include "pop quizzes" at the end to assess students' grasps of concepts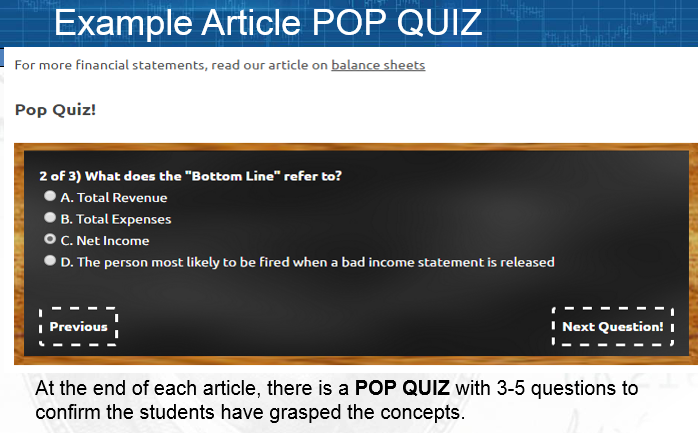 g. "Report Card" feature that allows teachers to monitor student activities on the site including stock market portfolio and pop quiz performance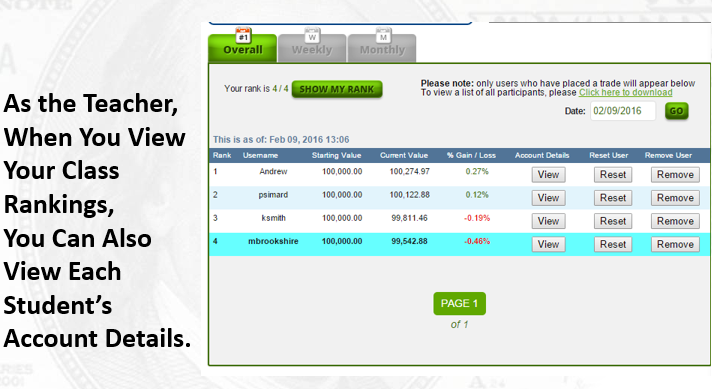 4. COMPLETE ACCESS TO OUR INVESTING101.NET. This online course is designed like an introductory college Investments course. It is available to the general public at $99 per user but is included in the Financial Literacy Lab bundle. This site includes 10 chapters that help students understand what the stock market is, how to research stocks, and how to build a diversified portfolio.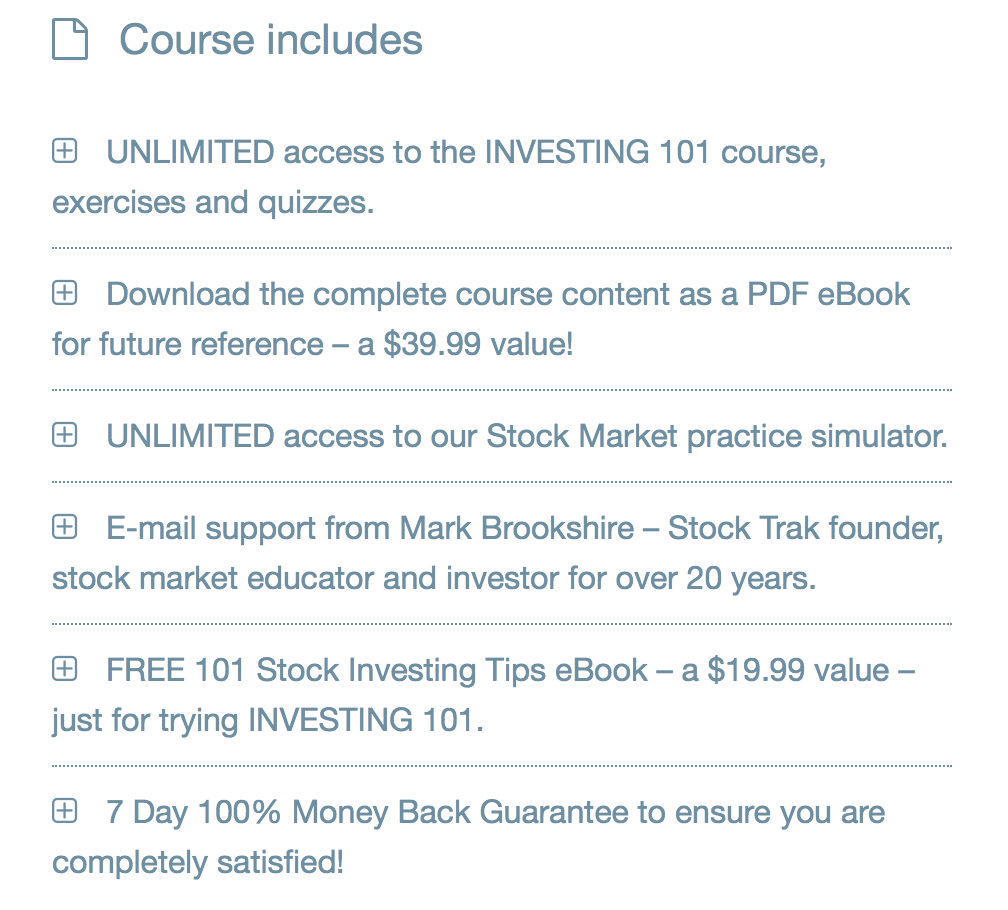 TO LEARN MORE AND GET PRICING INFORMATION:
The scrolling tickers come in 8 foot sections and the LCDs are available in 40 inch and 48 inch models. Each of these comes with a built-in Stock-Trak Controller that connects to your school's internet either via cable or wi-fi. The customized website takes about 8 weeks to develop and load with the appropriate learning modules depending on your state and the subjects you want included. While the technology and software is not free, if you don't currently have a budget we can direct you to some organizations that may fund these projects for your school. Schools may be able to use Perkins and CTE grants to cover the cost of adding a Financial Literacy Lab to their school!
Call Mark at 770-337-7720 OR email mark(at)StockTrak.com for more info.