Before you can go to graduate school, there's one thing that you need to accomplish: GRE (Graduate Record Examination). This is a pre-requisite needed to get into graduate schools except medical school and law school.
GRE is a standardized examination similar to college entrance exams. GRE is used to measure whether a graduate school applicant is eligible based on their aptitude in terms of vocabulary, mathematics, as well as analytical writing.
Scoring for verbal and quantitative tests will range from 130 to 170, and are always in whole numbers. The average score can be somewhere from 150 to 152. On the other hand, the scores for writing can range from 0 to 6 and can have half-point increments, with the average falling around 3.5.
Main Advantages of Having a Master's Degree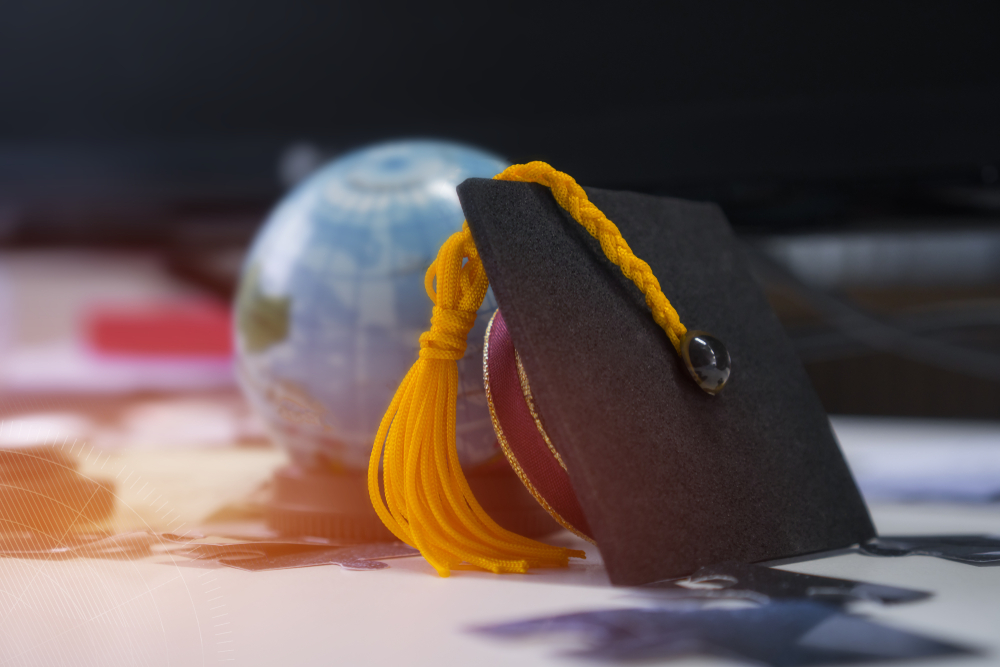 According to the U.S. Census Bureau, there are currently around 21 million Americans with a Master's degree. That's about 13.1% of adults in the USA. This only shows that citizens are not really aware of the advantages a Master's degree can do for their career.
While a bachelor's degree might be enough to get you a stable job, having a Master's degree has a significant edge in terms of the positions you can handle in a company – something you might not be qualified for otherwise.
Also, it might take you several years to be able to rise from the ranks having a mere BS or BA degree. Having an MA or MBA makes it easier to switch or transition to higher echelon positions.
But, while there are several reasons for wanting to take a Master's degree, what might persuade you more to aim for graduate studies is the earning potential.
To illustrate, according to the Bureau of Labor Statistics (BLS) of the United States Department of Labor, the median annual wage of a person with a Bachelor's degree in the field of securities, commodities, and financial services is around $90,000. For someone with a Master's degree in the same job field, the median salary is almost doubled, at $170,000.
Other Reasons for Wanting a Master's Degree
Apart from the motivators mentioned above, other reasons to get a master's degree include the following:
You want to gain specialized knowledge and skills in a particular field, which can be a significant contribution to the industry where you belong.
Continuing education expands your professional network. This is especially beneficial since you get to mingle with professionals and other notable personalities, unlike in the undergraduate school, which are usually students with no job experiences yet.
If you're a person who continually loves learning new things, taking a Master's degree can help you hone your skills in research, writing, and analytics. This enables you to solve complex problems and projects that may arise when you finally handle essential positions in a company.
How to Prep for the GRE
If you're now decided to take a master's degree to boost your career, you must be prepared to take the GRE. Each individual has different strategies on how to go about the preparation, and these strategies can make or break your chances of making it to the graduate school.
To up your odds, several GRE prep companies can provide you in-depth GRE preparation services so you can concentrate on taking the test instead.
In preparing for the GRE, you should also take into account these things:
Schedule – it's recommended to take GRE around a year prior to your intended start of graduate school. This is because, in case of failed results, you still have plenty of time to retake it.
Test location – there are around 1,000 test locations scattered around 160 countries. You should be able to choose from these college campuses and independent test facilities, depending on your convenience.
Registration – you should be able to register at the website of Educational Testing Service (ETS.org). You can choose between a computer-delivered exam or paper-delivered exam as well as the date of examination and preferred testing location.
You'll be given chances to retake the test every 21 days, but you can only register five times a year. The examination coverage will include quantitative reasoning, verbal reasoning, analytical reasoning.
These may sound intimidating. However, you don't need to spend all your time with the preparation. The recommendation is typically around two to three months' worth of intense GRE study, which can be spread out over three to four months.
Conclusion
A college diploma is already a big deal and can get you far in your career. Coupled with hard work and a little bit of luck, you can reach your dreams in no time. You could imagine how much more can you achieve when you have that three extra letters next to your name.
Having the option to better yourself is something not everyone can have, so consider yourself lucky.