Millions of people buy and sell Bitcoin in the conviction that cryptocurrency, in general, is the future of money. Bitcoin as the first cryptocurrency planted the idea that digital currencies could be a faster and cheaper means of exchange than traditional fiat currencies
The fact that the price of Bitcoin has gained about 115% this year alone makes it an attractive investment. Many Bitcoin evangelists have predicted that the price of Bitcoin could rise to $10,000, $100,000, and possibly a million dollars in the future. If you are interested in joining the crypto movement, this piece provides a comprehensive guide on five different ways through which you can buy and sell Bitcoin.
The easiest place to buy and sell Bitcoin: Skrill
Skrill offers users the easiest solution to buy and sell Bitcoin globally. Founded in 2001 as part of PaySafe Holdings UK Limited, Skrill has established itself as one of the major players in the digital payments industry. In 2018, Skrill started repurposing its experience, expertise, business process, and existing rails to offer users a simpler entry into the crypto market.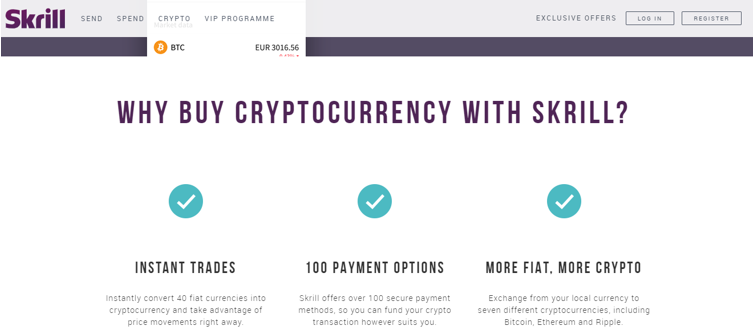 One of the reasons Skrill provides the easiest platform to buy and sell Bitcoin is its seamless account opening process. You can open a free account, deposit funds, and start buying Bitcoin or any other crypto that interests you in a matter of minutes. Skrill then allows you to buy Bitcoin with more than 40 traditional payment methods and 100 alternative payment methods.
Skrill also provides users with automated trades that help them to take advantage of drops in the price of Bitcoin to buy on the dip while selling their coins when the price of Bitcoin rises. The automated trades eliminate the need to be checking the price of Bitcoin every minute since you can set price triggers to buy and sell Bitcoin and trust Skrill to manage the trades without requiring any further action on your part.
The fact that Skrill is registered in the UK also provides a measure of confidence about its compliance with regulatory requirements. Skrill is authorized by the Financial Conduct Authority under the Electronic Money Regulations 2011 for the issuing of electronic money and payment instruments.
Mainstream exchange to buy and sell Bitcoin: Coinbase
Founded in 2012, Coinbase is one of the oldest places to buy and sell Bitcoin and its widely regarded as the most respected crypto platform because of its U.S. roots. Coinbase provides its users with crypto wallets to store their coins and it also serves as an exchange to trade coins. Users can buy and sell Bitcoin, Ethereum, Bitcoin Cash, Litecoin, Stellar, and Ripple on Coinbase.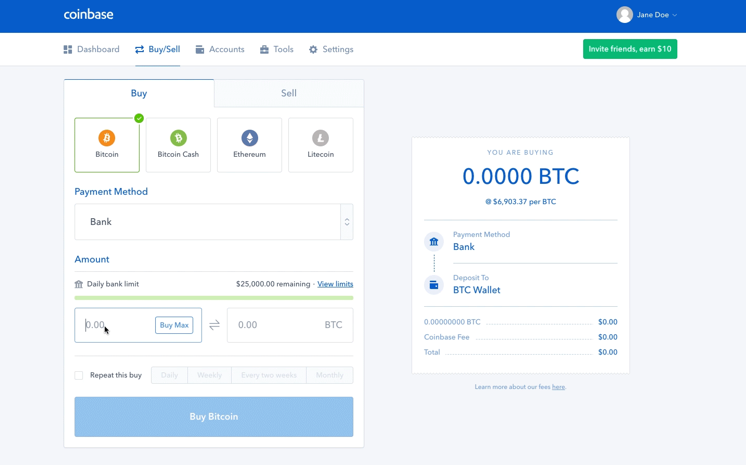 One of the factors that make Coinbase a respected Bitcoin platform is that it holds 98% of user funds offline to mitigate against hacks. In addition, user's cash balances on Coinbase are insured up to $250,000 in the unlikely event that coins are stolen in a hack. Coinbase also fortifies its wallet with two-factor authentication and it keeps redundant paper and digital backups to make it easier to recover user accounts when needed.
The major downside to Coinbase is that it seems to be built purposely for U.S. users; for instance, it charges a variable transaction fee of 1% for U.S. transactions and foreign transactions tend to attract higher fees. Coinbase also allows you to buy Bitcoin with credit cards for which it charges an additional 2.49% fixed fee.
The cheapest place to buy and sell Bitcoin: Robinhood
If you are in the United States, Robinhood is probably the cheapest solution for buying and selling cryptocurrencies. Robinhood built its business around offering stock brokerage services to users at zero costs. Robinhood has extended its services beyond stock brokerage to providing a platform to trade cryptocurrencies.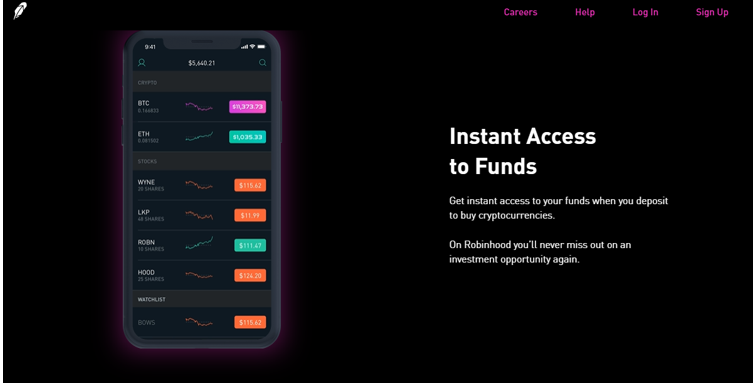 Robinhood Crypto allows you to buy and sell Bitcoin while supporting about 16 other coins. It also allows its users to place market orders and limit orders. The trading app combines your stock and crypto accounts and it is available on the web, iOS, and Android.
Robinhood remains the cheapest platform to buy and sell Bitcoin because it doesn't charge any fees overtly or covertly. The downside, however, is that Robinhood is only available in the U.S. and only in about 16 states; hence, many potential users are excluded.
Ideal place for professional traders to buy and sell Bitcoin: Binance
Instead of trading with fiat currencies such as USD, Euro, and Pounds, you can buy Bitcoin with other cryptocurrencies and you can sell Bitcoin for other cryptocurrencies.
Cryptocurrency exchanges typically serve as platforms to trade one cryptocurrency for another. Binance appears to be the most ideal place to buy Bitcoin with other cryptocurrencies.

Binance provides support to trade more than half of the coins, altcoins, and tokens in the crypto market. It also provides support for a long list of stablecoins. Professional traders will also be at home on Binance because of its advanced charting feature, margin options, crypto lending, and futures trades. If you want to become an active cryptocurrency daytrader, Binance is probably the place to be.
The downside, however, is that Binance is not insured and even though it boasts of excellent security users might not have much respite if the funds are stolen. Earlier this year, Binance suffered a hack in which more than $40 million worth of Bitcoin was stolen. Binance offered to cover the cost of the hack but the success of the hack raises questions about what will happen is hackers succeed in stealing larger amounts of coins.
Most preferred Peer-to-Peer platform buy and sell Bitcoin: LocalBitcoins
If you'd rather buy and sell Bitcoin directly from other people, you might want to consider peer-to-peer trading exchanges. LocalBitcoins allows you to connect with thousands of Bitcoin buyers and sellers all over the world, negotiate trading terms, agree on payment methods, and trade the coins informally.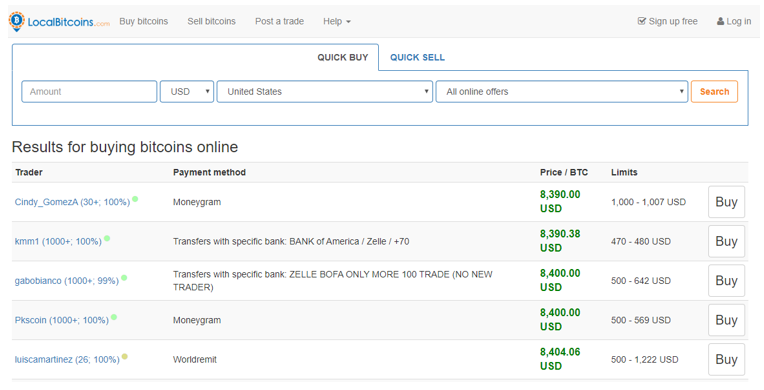 Many people prefer buying and selling Bitcoin on P2P platforms because of the relative anonymity that such platforms offer. After negotiations, the seller will put the amount of Bitcoin to be sold in escrow, the buyer will make payment through the agreed payment methods, and the escrow service will release the coins to buyers once the seller confirms payment.
People using LocalBitcoins often use a wide range of payment methods include Moneygram, Bank transfers, gift cards, and cash. LocalBitcoins also allows you to filter trades by amount, currency, location, and payment methods. LocalBitcoin, however, charges a 1% fee on trades in addition to the transaction processing fees charged by whatever payment method you choose.
Conclusion
The value of Bitcoin has grown from barely $0.02 since its launch in 2009 to more than $19,000 in 2017, and now about $9000. The potential value of Bitcoin depends on its widespread acceptance, integration into global financial services, and the faith of investors during the inevitable bear cycles.
Cryptocurrencies are an emerging asset class and Bitcoin is the yardstick for predicting where the cryptocurrency industry is headed. Bitcoin is however volatile because of its speculative nature; hence, you should not put more money than you can potentially afford to lose in a Bitcoin trade.