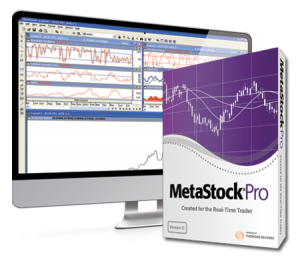 MetaStock Pro is specifically designed for real-time traders—traders who use intra-day data to transact in real-time throughout the trading day. Whether you're an experienced, active trader or just learning how to trade the markets, MetaStock helps you succeed.
The software contains powerful analysis tools to help you make informed decisions about what to buy & sell and when to execute to make the most money possible. MetaStock comes with many out-of-the box trading solutions that are reliable and easy to use. And if you want to take your analysis to the next level, MetaStock gives you the ability to customize these solutions to your particular trading style.
MetaStock is powered by the incredible MetaStock XENITH Real-Time Data and News package. More than a simple data feed, MetaStock XENITH fuses the information, tools and analytics you need into a single desktop customized to the way you work. You can use the many pre-defined screens, like the "equity trader" screen, or easily customize your desktop to view the content you use most often.
Whether you trade stocks, bonds, mutual funds, futures, commodities, FOREX, or indices, MetaStock has the tools you need for superior market analysis and financial success. In fact, 84% of our customers report that they have been successful using the MetaStock software! Here is what one of our customers has to say about MetaStock:
"MetaStock is obviously made by people who understand traders' needs. It's a complete package that's easy to use, no matter what kind of securities you trade. It's the single tool that's allowed me to fine-tune my trading approach, pursue my avocation and build a satisfying retirement."
Discover the flexabliity of the Power Console
Successful trading decisions require the right mix of content and capability. The Power Console takes everything that is great about MetaStock and puts it in one convenient location. You'll notice the difference the first time you open MetaStock 12. The Power Console is front and center. Now you can open a chart, start a scan, run a test, review reports, make custom lists, and more… from one full-featured dashboard.
"Where do I start in a universe of instruments?"
There are thousands of instruments out there. Moreover there are hundreds of systems you might want to use to trade them. How do you even begin to sort through the possibilities? How do you find the winners? Enter theMetaStock Explorer. The Explorer lets you use YOUR criteria to scan the markets and find the instruments that fit YOUR strategy.
"How do I interpret the indicators on my chart?"
Imagine having the input of industry professionals when and where you need it. That's what the MetaStock Expert Advisor is all about. You can display the industry's most popular indicators with correlating buy and sell signals. Expert commentary gives you specific information about the indicators and what triggered the signal. It's a great educational tool.
"How can I test and optimize my strategies?"
Do you want to create, back-test, compare, and optimize your strategies BEFORE you risk money in the market. With the MetaStock System Testeryou can. You can even test multiple instruments against multiple systems. By analyzing every trade that would have occurred historically, you build confidence in your system… something all traders need.